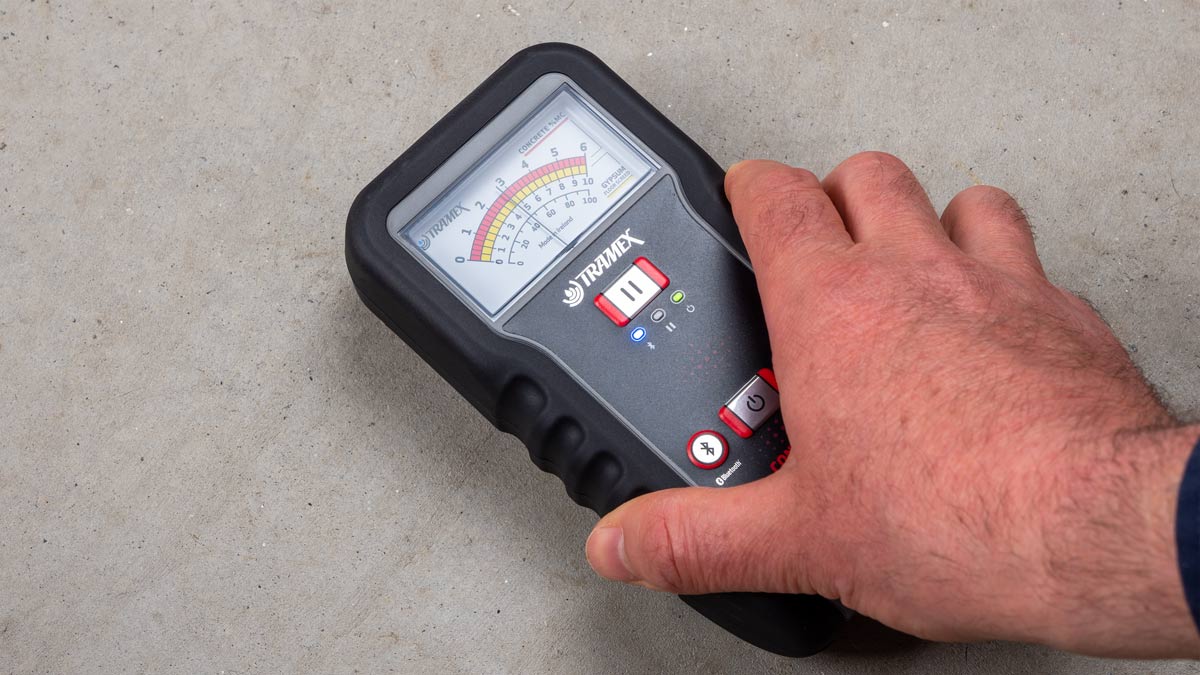 The , was designed and built by Tramex to provide instant and precise quantitative moisture content measurements in concrete floors and slabs, using Gravimetric Testing as a baseline. The is the ideal non-destructive concrete moisture meter for monitoring the most crucial information both during the concrete drying process and at the time of installation of floor coverings or coatings. The also provides comparative moisture measurements for concrete, gypsum and other cementitious floor surfaces to ASTM F2659 standard.
With Accompanying Tramex Meters App
This non-destructive moisture meter sends a low-frequency electric signal through the surface into concrete material to a depth of three-quarters of an inch by way of the spring-loaded electrodes mounted on its base. The signal strength varies in proportion to the amount of moisture present in the concrete material, permitting the to detect and accurately convert these readings into quantitative moisture content values which are shown on its large, clear analog display, or transmitted onto mobile devices by way of built-in Bluetooth technology to accompanying IOS and Android apps. Bluetooth connectivity to the allows for visualization of readings and data reporting to mobile devices, to GeoTag test results, create, save and share photos, reports and charts. Even though the is packed with technology, it is extremely simple to operate with just a three-button control.
Built to Last
Tramex build meters to last. The has a rugged and durable housing. Everything about it is tough, even the spring-loaded electrode contacts. Its ergonomic body has been designed to accept an easy to attach , an accessory that is available to reduce the number of times a user would need to crouch or kneel. This conveniently facilitates multiple tests over a large surface area in the shortest possible time
For anyone who needs to determine the moisture content value of concrete slabs and cementitious screed flooring, to test if the concrete slab is dry enough to receive floor coverings, adhesives or coatings, the is affordable, technically advanced, built to last and easy to use. The is the ideal non-destructive concrete moisture meter.
Why risk it? Test with Tramex!