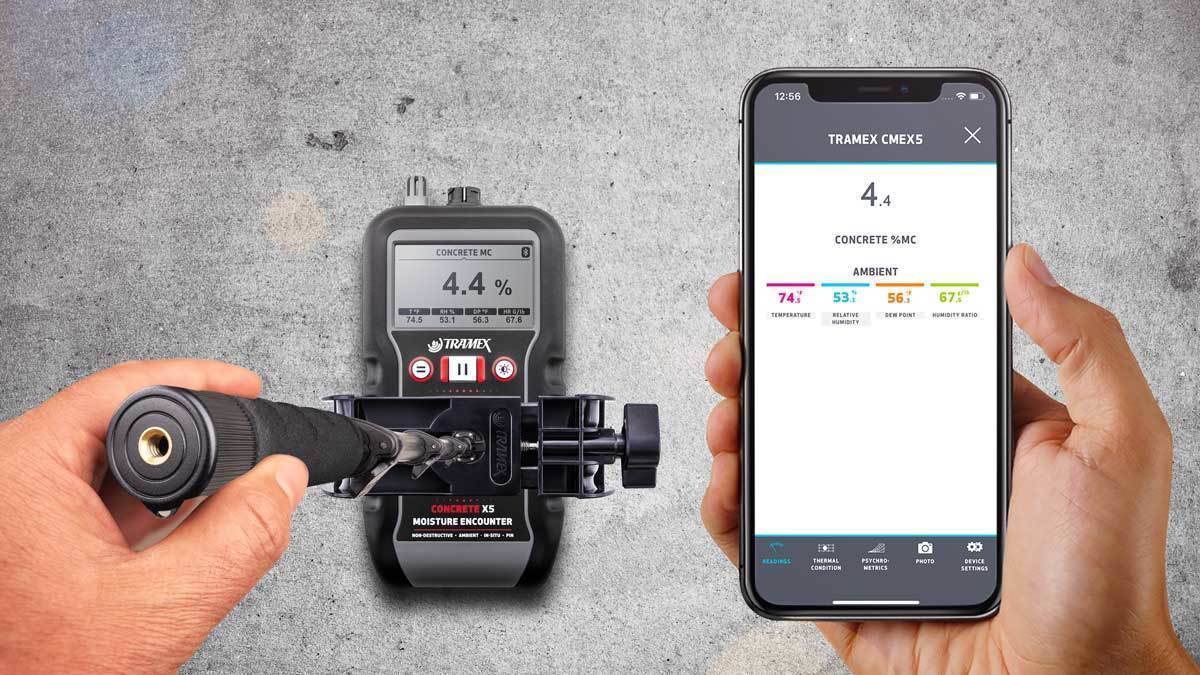 The , is the ultimate non-destructive Digital Multi Moisture Meter for concrete floors and slabs. Providing instant and precise quantitative measurements of moisture content using Gravimetric Testing as a baseline, the also provides Calcium Carbide Method Equivalent readings and comparative readings as per ASTM F2659. The is the ultimate non-destructive concrete moisture meter for monitoring the most crucial moisture and humidity conditions information both during the concrete drying process and especially at the time of installation of floor coverings, adhesives or coatings. The has multiple measurement features including a built-in Sensor for Ambient and In-Situ Relative Humidity, Temperature, Dew Point and Humidity Ratio measurements of the environment, concrete or building material. These are all shown simultaneously on one clear digital display.
With Accompanying Tramex Meters App
Bluetooth is another valuable feature, connecting the directly to the , allowing the user to measure moisture content, relative humidity and ambient conditions, map, GeoTag, store & share results instantly on a mobile device. The is encased in a rugged, durable body with ergonomic rubber grip sides. An optional is available for conveniently taking floor readings, reducing the need for crouching or kneeling. The digital display is clearly visible in direct sunlight and is Front-lit, allowing the screen to be easily read in poor lighting conditions. Its ultra low energy requirement enhances battery life.
Accessories
The bayonet plug-in port allows for the use of optional probe accessories. A variety of Tramex can be connected for ambient RH measurements within building materials and air spaces. Using the optional plug-in , the relative humidity in a concrete slab can be tested with the In-situ Equilibrium Relative Humidity method as per International Standards including ASTM F2170, BS 8201 & AS 1884.
Tramex can be plugged in to measure the percentage moisture content of wood using over 500 pre-programmed wood species through the . The Pin-meter mode can also be used for Drywall or WME (Wood Moisture Equivalent) readings for other materials.
The , facilitates many industries with essential testing tools & methods, providing a complete evaluation of materials & environment.
Click to see the video.
Why risk it? Test with Tramex!